THE FRIENDLIEST,
BEST RUN ONLINE BRIDGE CLUB

Best caliber of players. Many experts and professional players (like Paul Soloway, Bob Hamman, and Bobby Levin) have played on OKbridge for years. Don't be surprised to spot them in our club practicing for an upcoming tournament.
Largest membership club. We have nearly 13,000 members in 100 countries. You're sure to find players at your level whenever you want to play.
Exceptional customer service. Our Member Services team is available to help with questions or problems 7am - 7pm Pacific time Monday through Friday, and 8am - 5pm Pacific time Saturday and Sunday. You'll quickly see why our members consider our friendly, helpful staff one of the great benefits of their membership.
Top quality bridge articles. Looking to improve your bidding and playing skill? We archive a huge inventory of free articles by some of the most prominent bridge writers who've written for us over the years. And you'll find new articles and commentary appearing regularly on our web site. [See a current article]
Full, smart, player-friendly features. You'll enjoy the benefit of what we have learned in over 15 years of providing an online bridge club. We have listened to our members, and respond by offering features and functions not found on other sites:
Play with your preferred scoring, including Matchpoints, IMPs and Rubber bridge.
Enjoy the camaraderie of team games.
Review all competitive hands at any time in the future.
Meet compatible players on our partnership bulletin board.
Find a tournament to your liking every day. [See current tournament schedule]
Compete with a rating system based on ability, not attendance.
Fair play. We are dedicated to providing a bridge club environment where you can play without being subjected to poor behavior or questionable play. To ensure this, we have published rules of play, conduct and ethics that are strictly enforced by our world-class Conduct and Ethics team.

Already a Member?
Clear, fun playing screens.
Easy to find a partner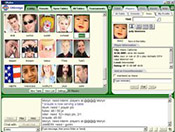 [click to enlarge]
Easy to pick
a compatible table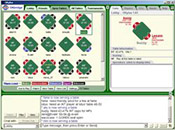 [click to enlarge]
Exciting to play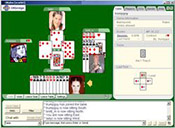 [click to enlarge]
free trial includes:
As a trial member, you will have seven days to explore our club at absolutely no cost to you.

You will have full access to our online bridge club where you can play live bridge via the Internet at any time of day or night.

You can also visit our Members Club Web site, which contains a variety of bridge-related content, including articles by leading bridge experts.