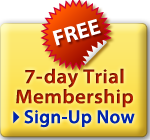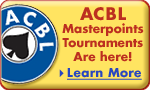 Tournament Times

Time (PST)
Format
6:00 AM
MP / IMP mini
9:00 AM
MP / IMP mini
9:00 AM
ACBL MP mini
11:00 AM*
IMP mini
11:00 AM*
MP mini
11:00 AM
ACBL IMP mini
12:30 PM**
IMP mini
12:30 PM**
MP mini
12:30 PM
ACBL IMP mini
2:00 PM
MP / IMP mini
2:00 PM
ACBL MP / IMP mini
4:00 PM*
IMP mini
4:00 PM*
MP mini
4:00 PM*
ACBL IMP mini
5:30 PM**
IMP mini
5:30 PM**
MP mini
5:30 PM**
ACBL IMP mini
7:00 PM*
MP / IMP mini
7:00 PM
ACBL IMP mini
8:30 PM**
MP / IMP mini
* combo 1, ** combo 2
Tournament Schedule Page
Time Zone Finder & Map
OUR MEMBERS TELL IT LIKE IT IS!

" OKbridge is terrific! You will enjoy, as I do, the opportunity of playing bridge from your own home. You can drop in for a hand or two, a full set, or to practice with your favorite partner. Or to just kibitz the top players."
— Paul Soloway, #1 ACBL Masterpoint Winner

" As a visually-impaired and computer-illiterate individual, when I first signed up as a member of OKbridge, I encountered many obstacles. I repeatedly phoned in with questions and found the staff courteous, knowledgeable, and immediately able to explain how to operate out of my difficulty. My membership has been a delightful experience. I have made many global friendships with other members. Thank you for being so helpful."
— Sidney K. Solomon

" Being a new subscriber to OKbridge I was at a total loss. Any question and problem I had was promptly and efficiently handled by your staff. The courtesy and helpfulness I got enabled me to enjoy OKB daily and I had the privilege to make great friends all over the globe. Thanks again for having an excellent and caring staff."
— Ursula Brooks

" OKbridge is an exciting club in which to have a membership. I get to meet people from all over the world, play with my long-time friends even though thousands of miles separate us. Being a working person I love being able to play whenever I HAVE the time. No time constraints prevent me from enjoying a hobby I love. I can also practice for a tournament with a distant friend and be better prepared for the event when we participate because we have practiced beforehand. It is a great club and a wonderful concept. I am happy to be a member."
— Peggy Kemf

" I have wanted to tell you that, as a "computer know-nothing" I have to turn to many sites for help and nowhere do I get such prompt, courteous and effective help as at your help-desk. I have been a member for over 3 years now and I must have turned to you at least 30 times in the past. I do not remember an occasion when I did not get what I wanted."
— Pedro Gollman

" Bridge utopia! Only on OKB can you play with or against the nicest and best bridge players in the world with instant feedback on every play and every hand. The updated software is incredible! OKbridge was obviously sent to us from "bridge" heaven. My OKB "friends" list now fills two columns. Many on this list I have met personally and consider to be among my very best friends. Thanks to a suggestion I, and others I'm sure, submitted to the professional staff at OKB, I can now see the status of every player on my "friends" list with a click of my mouse."
— Jim Beggs

Already a Member?

free trial includes:

As a trial member, you will have seven days to explore our club at absolutely no cost to you.

You will have full access to our online bridge club where you can play live bridge via the Internet at any time of day or night.

You can also visit our Members Club Web site, which contains a variety of bridge-related content, including articles by leading bridge experts.

member access includes:

Our online bridge club, where they can play live bridge via the Internet at any time of day or night.
Our exclusive Members Club website, which contains a variety of bridge-related content.
Our daily online tournaments, which simulate the experience of playing a single-session event at a bridge club or tournament.


Press Box

HOT Features

OKplus trumps other online bridge games

Fast! No waiting for refreshes.
See pictures of players to easily recognize partners.
Resize game windows to suit your screen.
Make it "your" game with many customizable options.
Use a private chat window during the game.
Save your favorite chat messages.
Save your bid explanations.
Hide your email address if you want to protect your privacy.
Quickly find tournaments via built-in tournament schedule.
Bid with assurance using graphical convention cards.